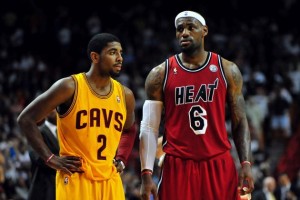 Summer league is over and the Cavs have added some additional players to round out the roster, so it is officially time to start speculating about what the starting lineup may look like.  Mike Mayer of Fear the Sword has kicked off the discussion.  His predicted lineup looks like it would be Kyrie Irving, Dion Waiters, LeBron James, Tristan Thompson, and Andy Varejao.  He argues for Waiters over Wiggins from the standpoint that Wiggins is a rookie.
Defensively, Wiggins projects to be very good, but as a rookie, it's unlikely that he would actually be any better than Waiters. At least not from day one.

So while Wiggins may be a better fit for this spot in theory, I would actually be pretty surprised if he starts over Waiters on opening night.