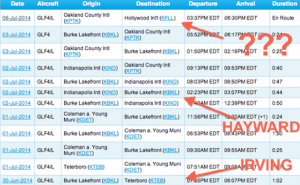 Last night Twitter almost exploded, as the rumor factory was working overtime talking about the Cavs and LeBron James.  The stories started on Twitter and stayed there for the most part.  Joe Lull, a Cleveland radio guy, started it off.
Cavaliers owner Dan Gilbert is currently en route to south Florida.

— Joe Lull (@LullOnSports) July 6, 2014
Update:
Who knows what to believe about all of the Tweets last night.  Jason Lloyd is calling out the talk about Big Z going to Miami.  If no one was one the flight from the Cavs organization, what does that say about all of the subsequent Tweets about LeBron favoring Cleveland?
Sources: Z was not aboard Sunday's mysterious flight to South Florida. Story: http://t.co/I1aVI5sZB0

— Jason Lloyd (@JasonLloydABJ) July 7, 2014