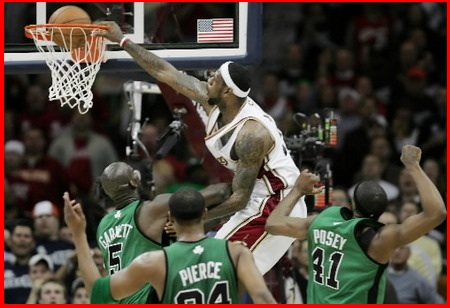 I finally have a day off of work, so I've been catching up on some NBA reading.  The Ball Don't Lie blog has been doing pieces this past week about historic dunk moments in the NBA.  LeBron's dunk on Kevin Garnett and James Posey during game 5 of the 2008 Eastern Conference semifinals was covered by Joey Gulino.  This piece features some truly animated writing and is a must read.
Let me tell you something about Cleveland fans. These moments don't happen for us, they happen to us. Except this time. Except when the greatest athlete to ever suit up for Cleveland exploded from Boston's big green grip with no regard for the Celtic defenders, with no regard for the concept of basketball as a team game, with no regard for … well, you know.

Kevin Harlan's forceful narration was the perfect punctuation. He said what nobody else in the moment could. Cavs fans could do nothing but scramble for inaudible exuberance. Celtics fans could do nothing but swear. Neutral fans could do nothing but shake their heads in appreciative disbelief. Doug Collins could do nothing but register the audible equivalent of slack-jawed astonishment.