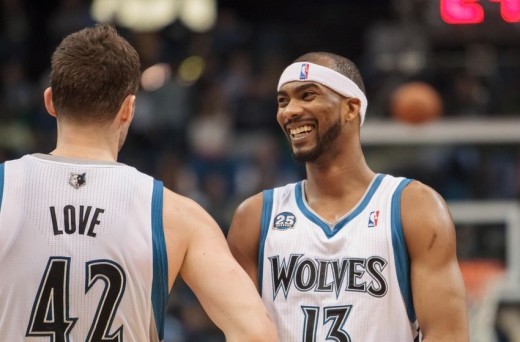 Four points I'm thinking about the NBA and the Cleveland Cavaliers…
1.) Over the weekend, reports surfaced that the Cavs were interested in trading for Corey Brewer of the Minnesota Timberwolves. The Cavs have the trade exception they acquired in the Keith Bogans merry-go-round and, therefore, would not have to include a player in the trade. The Wolves are said to be looking for "future assets" in exchange for freeing up their glut on the wing and the Houston Rockets have also been listed as a potential trade partner. The Cavs roster stands at 15 right now, so if they don't include a player in the trade, one would have to be released.
If this trade happens, Brewer likely slides right into the starting lineup, moving Shawn Marion back to the bench. At 6-9, Brewer brings tremendous length to both the shooting guard and small forward spots. Outside of being Kevin Love's preferred touchdown target for his outlet passes, Brewer has never been known for his offense. He's never developed into even an average three-point shooter (29% for his career), but he has a tendency to find ways to contribute across the box score.
2.) The Cavs interest in Brewer seems to come down to two things: a.) his relationship with Love and b.) the Cavs front office realizing that their defense is even worse off than they thought coming into the season.