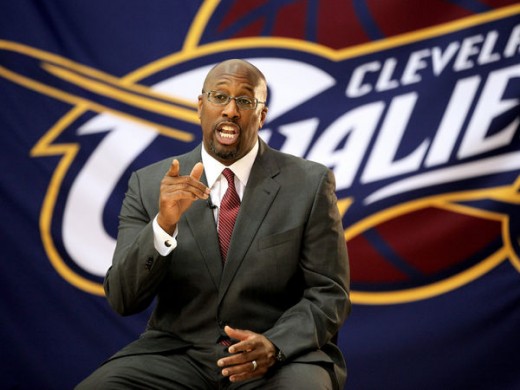 When Mike Brown was originally hired by Dan Gilbert back in 2005, the first time coach was tasked with getting a young Cavaliers star, LeBron James, his first taste of the playoffs after two seasons ending in disappointing near-misses. At the time, the 35-year old former assistant to Rick Carlisle in Indiana, downplayed the pressure he was facing. "My job," he said, "is to coach this basketball team, and that's what I'm focused on."
As with any NBA head coaching job, that's easier said than done. In addition to making good on his promises to build the team as a defense-first unit, he already had to worry about the prospect that James would choose to leave (James didn't sign his extension with the Cavs until the summer of 2006) as well as deal with the national assumption that, very soon, then-current Pistons coach and longtime windmill to Gilbert's tilt, Larry Brown, would be brought in as President of Basketball Operations.
You can imagine Gilbert's pitch: "Hey, congratulations on becoming one of 30 NBA head coaches… Now, you won't mind making sure our local star is happy enough to stay with us forever, will you? Oh, and I'm going to try to make Larry Brown your boss. Yeah, the Larry Brown that famously doesn't really get along with people and could tire of any position at any time and start publicly courting another job. That one. Oh, and, yeah, I should mention that our current star totally hates this guy from being coached/embarrassed by him in the Olympics. Cool?"
Whatever hangs over the head of the Cavaliers' head coach heading into the 2013-14 season, even while his new roster also features a third-year budding star who as yet to taste that sweet, sweet playoff honey, it can't get worse than that first time. Can it?