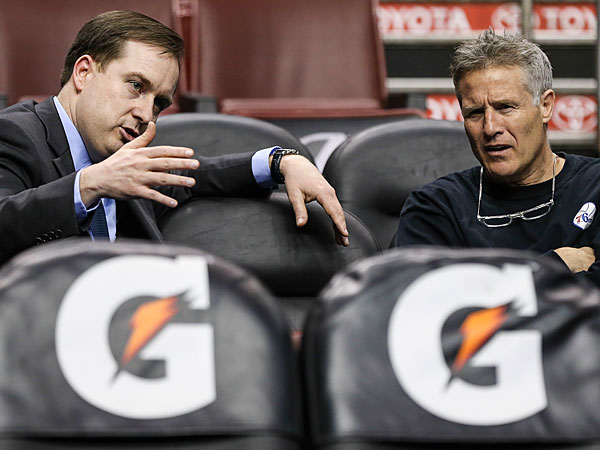 First off, check out Cory's extremely entertaining recap of an extremely underwhelming Cavs loss last night. Second, over the past few weeks, Tom Pestak and I have been exchanging letters with long time reader/commenter, Mac. The conversation started in the comment section of the Reader 5 on 5, as a reaction to this piece in ESPN the Magazine on Sam Hinkie and the Sixer's "Plan to win (yes, really)." The whole piece struck Mac and I as naive at best, or as Mac said.. "The things they [the Sixers] are doing and saying about how the short term pain is all for long term gain are the things PE/finance guys do and say whether they intend to save your company or bleed it dry and leave other people to bury the corpse." Mac expounded.
I am really sick of people patting themselves on the back for not being archaic dinosaurs like Jeanie Buss or Russ Granick and understanding what the Sixers are doing is really smart. Tanking and being a free rider while other people try to be good sports because the league doesn't really work without a good faith effort to not mail it in unless you are a top five team is really smart, in the way that putting your money in tax shelters in the Bahamas and not paying your share of taxes is smart. It is smart in the way that forming a corporation and putting your assets in it and making your kids shareholders so you don't have to pay estate tax is smart. It is smart in the way that rich people living in economically segregated neighborhoods so their kids can go to the best possible public schools funded by local property taxes is smart. It is smart and worthy of praise if maximizing self-interest is the epitome of human intelligence and achievement. It is strange to me that millenials, who in many ways seem much more progressive and empathetic than my generation, seem to so easily accept the premise that as long as it is legal, screwing over the common good just to get every last squeeze out of the orange for yourself isn't merely acceptable, but the only rational thing to do.
If you haven't checked out the comment section of that piece, I recommend you do so.  It's one of my faves, and Mac, Ross, C6H12O6, and CLF all contributed to an enlightening conversation. We went deep down the rabbit hole. Naturally, this sparked an offline conversation about the state of team-building in the NBA between Mac, our resident cynical skeptic (me), and our defender of capitalism, Mom, America, and Apple Pie (Tom Pestak). We're sharing it with you in a two part series that will run this week. Enjoy.