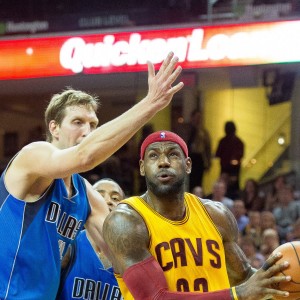 Four points I'm thinking about the Cleveland Cavaliers…
1.) Well, the bloom is officially off the rose. The Cavaliers have lost. All the tiny cracks and fissures Cavs fans have seen in their team over the first four preseason games finally busted open full and wide in the team's 108-102 loss to the Dallas Mavericks on Friday. The turnovers. The consistently inconsistent implementation of David Blatt's new offense. The porous defense. The less-than-fully-active roster. All of those were on full display and, in the end, the result was predictably not in the Cavaliers' favor.
Now (he says for about the millionth time), most of this is just preseason stuff. Coach Blatt is clearly choosing to have his club ready to begin the season physically, even if that means making sacrifices in cohesion that result in all of the above. Friday was Kevin Love's and Shawn Marion's turns to sit, meaning Blatt hasn't had his full roster to play with in-game since the Cavs' preseason opening win against Maccabi Tel Aviv.