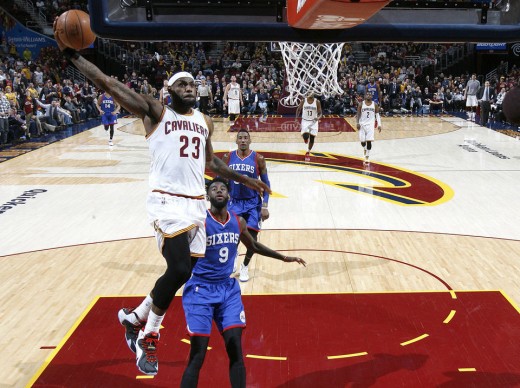 Four things I'm thinking about the NBA and the Cleveland Cavaliers…
1.) Thursday's game against the Clippers will be a good measuring stick for these Cavs — and it comes at just the right time. The Cavs just played three of the worst teams in the league in the Sixers, Wolves and Kings and, while it would be unfair to say that the team has gotten bored of Avenge-a-palooza 2015, serving steaming piles of roundball comeuppance to a rogues gallery of disheartening losses, finally seeing a team that also plans to be playing deep into May and June (and one looking to avenge its own disheartening loss, a 126-121 Cavs win in L.A. on January 16th) is exactly what the Cavs need to resharpen their focus and keep this winning streak going.
Thus far, the Cavs have had some trouble piling it on against lesser 0pponents. Last Friday against Sacramento, the Cavs managed only 15 points in the fourth quarter, letting the Kings back into a game that should have been well out of reach. The next night in Minnesota, the young Wolves team (sporting the league's worst defense) were actually leading the Cavs in the second half, before the Cavs defense (still sporting its new car smell) put the strangle hold on in the fourth. Then Monday night, those scrappy Sixers, got within two points in the fourth before Matthew Dellavedova stepped in to blow their candles out.