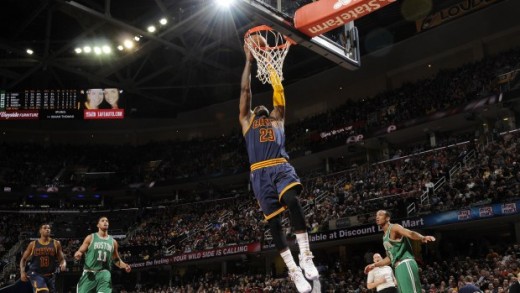 Four points I'm thinking about the Cleveland Cavaliers on the final day of the 2014-15 NBA regular season…
1.) While the Celtics won't be pushovers in the first round, it's clear why the Cavs would prefer to play a relatively young Boston team over a resurgent (until the last two games, anyway) Brooklyn team and a Pacers team who have given the Cavs problems all year and just got their star player, Paul George, back for the stretch run and likely beyond.
The Celtics are hot at exactly the right time. Winners of four straight and seven of the last ten, head coach Brad Stevens' squad ranks third in points per game (111.5), third in assists per game (26.3) and first in steals (13.3) over the ten game span prior to Tuesday night's game against Toronto.
Also, in the month of April the Celtics have been allowing only 97.4 points per 100 possessions, good for fifth best in the league. They feature a dangerous scorer in Isaiah Thomas (20.7 points and 5.5 assists in April) and some lively big bodies in Brandon Bass and former Cavalier Tyler Zeller to go along with an absolutely dogged perimeter defense led by Avery Bradley and rookie Marcus Smart.