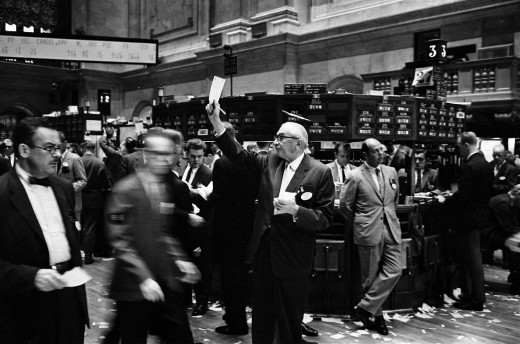 So with the trade deadline fast approaching (3 PM Eastern), we threw down the gauntlet and asked for some (realistic) trades we'd like to see the Cavs make.  Here's what our writers came up with.
Kevin: Let's try this:
The Cavs should send Daniel Gibson to a contender, and Chicago looks like an ideal team to trade him to.  The Bulls rank 29th in the NBA in made three-pointers per game, they are in the luxury tax, and also employ a big point guard to pair him with in Kirk Hinrich.  When Derrick Rose returns, Boobie helps spread the defense during a Rose drive.
Cavs trade: Daniel Gibson
Bulls trade: Richard Hamilton, Vlad Radmanovic, Marquis Teague
For the Cavs, the trade is mainly about Marquis Teague, a late first-round pick in 2012.  At 19 years old, he could play in the D-League for a season with Livingston backing up Kyrie, then emerge as a youthful, athletic & skilled sub in 2014 – 2015.  If he reaches his full potential, he serves as another trade asset down the road.  Radmanovic, and possibly Hamilton would be immediately waived.  For the Bulls, they give up only one rotation player – and that is a 35 year old shooting guard with an 11 PER.  In return, they receive a 26 year old with career 41% three point shooting, that may finally be able to resume his natural role of floor-spacer.  The Bulls save $4 million, as the move pushes them lower towards the luxury tax line.
Tom: OK, here's my blockbuster trade idea.
Admittedly, I don't have a ton of interest in the CBA and all the rules and how often deals are made purely for salary cap relief/luxury tax savings.  The Memphis deal seems more mind boggling every day.  So here is a trade mostly about fit.
Cleveland gives up Tyler Zeller and guys that probably won't be in a Cavs uniform in 2 years anyway: Boobie, Casspi, and Walton.  Cleveland gets their SF of the future Ersan Illyasova who becomes a top 5 SF in the East.  They also agree to absorb Caron Butler's 2-year deal and trade him away the following season to a contender.  It's a Zeller for Illyasova swap as far as I'm concerned.
Indiana needs playmakers.  As much as stat geeks and Jason Whitlock love Paul George, I'm not convinced he can set the other guys up.  Remember, in playoff games, half-court execution is necessary and having ball-handlers that create easy baskets is huge.  Unless you employ the triangle offense.  Indy goes all-in this season acquiring Brandon Jennings and sharp-shooter Boobie Gibson.  They are currently 26th in assists and steals, so adding Jennings helps here.  They got smaller, but they're front line is beastly on the boards.  They give up?  Ewing-theory candidate Danny Granger to….
LAC!  Danny Granger is great at sitting in the corner and hitting wide open 3s.  Occasionally he'll put the ball on the floor and score.  But really, he's a rich-man's Caron Bulter (perfect!)  With CP3 running the show, Granger certainly won't be counted on to be the "closer" or the "go-to" guy that he could never succeed at in Indy.  Granger is a big upgrade and on the Clips he'd be content getting a sneaky 16 points every night.  That is a devastating roster and the Clips give up Eric Bledsoe and (now expendable) Caron Butler.
This isn't Milwaukee's year and they have about 9 forwards.  So they punt on the potentially well-overpaid Illysova and the mercurial Jennings for the supremely athletic (and huge upgrade on D) Eric Bledsoe.  They also get rookie Tyler Zeller who is on a very favorable rookie contract as well as a bunch of expirings to help them get to an insanely cheap team + Monta Ellis, and go from there in 2014.
Nate: As I've stated, the goal of any Mo Speights trade should be to get a future first round pick and/or first round talent.  It should also be to trade Speights to a team with no cap room, so that the Cavs can attempt to sign him in the offseason.  Accomplishing this is as simple as sitting down with Speights and saying, "Look.  We really like the way you're playing.  But we're not competing for a playoff spot, and we're looking to trade you to someone who is.  So go compete in the playoffs.  If you decide to opt out, we would love to negotiate with you this off-season."  With that in mind, I designed this trade a week ago, which sent Speights to San Antonio in exchange for a first rounder.  The main response was, San Antonio won't do it.  So I give you the pu pu platter de jour.
In this trade, Golden State gets Speights, and the Cavs get prospects Jeremy Tyler and Festus Ezeli, the injured Brandon Rush, and a future 1st round pick.  The Warriors can't send Cleveland their pick this year because it's committed to Brooklyn, or in 2014 because of the Stepien Rule, so it would be in 2015 or later.  Rush would have to agree to this deal because of his Bird rights, but given that he will probably pick up his player option for next year, I doubt this will be an issue.  Golden State does it because it gets them under the tax  this year and  gets them a quality 4th big.  Cleveland does it because it gets them prospects (Tyler is still an intriguing player with a 7'5″ wing span), a future first rounder, and a guy who could be a rotation player next year in Rush.
The only drawback of this trade is that Cleveland would have to cut two players.  To remedy this problem I propose this trade .  Here, Cleveland trades with Minnesota to get Brandon Roy and Derrick Williams.  They give up Walton, C.J. Miles, and Josh Selby.  Some other picks might be shuffled around, and maybe the Cavs throw a 2nd rounder or two the TWolves' way, or maybe the right to swap some picks in future years.  Cleveland does this trade to get Derrick Williams, and immediately waives or buys out Brandon Roy.  Minnesota does this to clear Roy's salary off the books and clear $8 million in cap space for next year (they'll need it to sign Pekovic), and to get a shooting guard who is actually healthy.
————————————
Admittedly, these proposals are all a little underwhelming and not of the Luke Walton, C.J. Miles, and a future 2nd round pick for Kevin Durant variety, but they are the kinds of trades that net assets.  Assets allow teams like Houston to fleece teams like Sacramento for number five overall picks like
Thomas Robinson
.  Let's hope Chris Grant channels his inner
Daryl Morey
today.