I used the above video as header for the last piece I wrote that mentioned Brad Daugherty. Likely, I will use it somewhere in every piece I write about Daugherty.
More than his five All-Star trips in eight seasons wearing the only pro uniform he ever would — the orange "Cavs" or "Cleveland" as short a distance over his number 43 as the basketball rim was over Daugherty's own head — more than his 10,389 career points (a club best when he retired and still good for third best now), more than his distinctive drawl and a hairline that, at times, was practically Boozerian in its encroachment (Carlos Boozer's, of course, attacked from below, from his upper chest, while Daugherty's threatened to cover his lower brow as thoroughly as Batman's cowl), more than all of that, memories of Daugherty — for me, anyway — endure because he had his own card and sandwich.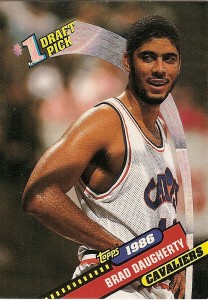 Beyond Brad's Bacon-Cheddar Special, my own relationship with Daugherty the player (not the pitch man), involved decidedly less salivation.  I came to the Cavs at a time when those Lenny Wilkens-coached teams were still in their prime. But it was a post-"The Shot" world and our eventual narrative — that it was a time when a fine collection of Cleveland players just never could get over the number 23-shaped hump that was Michael Jordan — was already sketched out, if not yet fully inked in. So, the baby steps of my first rabid sports team attachment were not made in awe of how good this team was (and just how difficult it is to find players that good and make a team work that well) but, rather, in abject dissatisfaction that my chosen team was made of the stuff that breaks hearts. My dissatisfaction centered, unfairly so, on my team's center, on Daugherty and the "soft" label that clung to him like an early-90s mock turtleneck.