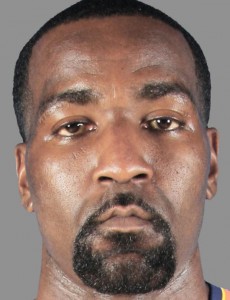 This Cavaliers season has been one of highs and lows. The team won the draft lottery, LeBron came back, Kevin Love came shortly thereafter, and all was good. Then, the team, and Love, had some serious struggles out of the gate, and woe came down upon us all.
Recently, the Cavs have been on an absolute tear since getting healthy and acquiring Timofey Mosgov and J.R. Smith, and now things get even better: The Impossible Dream has happened, and Kendrick Perkins will now be a Cleveland Cavalier, according to ESPN.com's Royce Young, who previously wrote what must be considered the definitive post-Celtics Perkins piece earlier this season.
Perkins is mainly known for his ability to set lots and lots of screens, many of questionable legality, and his individual post defense. He does very few other basketball-related things well. Out of 346 qualified players, Perkins ranks 335th in PER, which is not good. He has one of the worst True Shooting percentages in the league at 46.1%, which is impressive since he's a center who rarely shoots, and he has the highest turnover ratio in the league. (However, his True Shooting percentage is still higher than Dion Waiters', so there's that.)
Perkins' Real Plus-Minus is kinder to him, however, and puts him right about in the middle of the pack among NBA centers, which backs up the notion that he contributes with screens, post defense, and rim protection in ways that don't show up on the stat sheet. (It should be noted that RPM has not been nearly this kind to Perkins in years past.)
It's clear what Perkins provides: A battle-tested veteran who can be relied on to give spot minutes in the playoffs and give Mozgov a rest in the regular season, and a guy whose myriad of deficiencies will be mostly covered up by playing with three guys who can keep the floor spaced and will have the ball in their hands for the vast majority of the time.