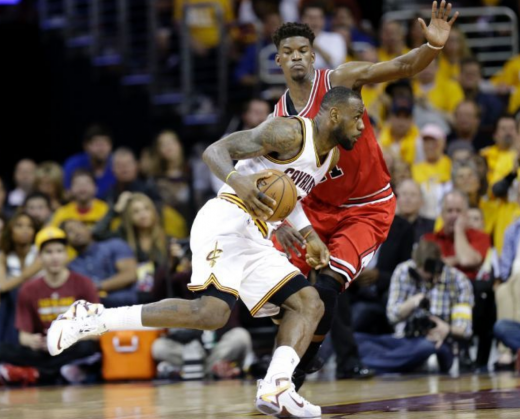 Mike Miller started.  Mike Dunleavy started.  Mike Miller "defended" Mike Dunleavy.  Mike Dunleavy's first five shots went in. The experiment didn't work.
Derrick Rose drilled multiple bail-out shot-clock-beating 3s (contested).  Kyrie Irving had a 10-2 run of his own.  The Cavs trailed by 15 in the 1st, but tied the game at 53 early in the 3rd.  Fans and bloggers alike spoke of "sustainability" so much I wondered if we were live blogging a greenpeace press conference.  Once all the craziness subsided it was just the Bulls reeling off 15 straight points in about two minutes.
The Cavs chipped away, with Kyrie leading the charge.  LeBron checked back into the game with the Cavs down just four.  He spent much of the night looking unsure of what he wanted to do offensively.  Lots of hesitation, lots of jump-passes, lots of turnovers, lots of out-of-sync offense that could not keep pace with the surgical Rose/Gasol PnR.  The Cavs had a chance to win, but they became impatient down the stretch, launching a lot of quick shots.  Then, with time actually pressing them to hurry up, they dribbled the clock down to single digits and took awkward shots.  LeBron and to a lesser extent, Kyrie, were no closers tonight.  The Cavs lone buckets in the final five minutes were a TT tip-in off a sub-optimal baseline drive and oop from Delly of all people.  The other was a Iman Shumpert bucket.  Jimmy Butler scored seven of the Bulls final 11 points, icing the game with a banked in short-jumper.
In the end the Cavs attempted more field goals, more threes, more free throws, grabbed more rebounds, and committed less turnovers.  That's usually a recipe for a W, but the Bulls offensive execution was superior all night.