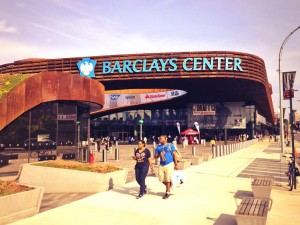 Wowza, what a Monday! Free Agency is in full "contracts can't be officially signed for another week" swing and CtB hits you with Kevin's epic lead-out to the draft and lead-in to free agency, Mallory's podcast with the always spectacular Scott Raab and now … a couple of Instagrammed snapshots and personal anecdotes.
*cough* *cough*
Aim to please, folks. Aim to please.
But seeing the draft in person is a weird jag. After last year's draft, Scott Henkle and I talked at length about the unique experience of attending the draft as a fan/spectator in a piece for The Classical. This year, the experience was equally unique, just replace "drinking overpriced beers" with "the nagging feeling that you should always be tracking down 'the scoop' and then realizing that the NBA will bend over backwards to make sure the scoop they want you to get finds you— and not one bit more." Access to the recently drafted players — especially the top picks — is very controlled and has everything to do with getting these players on as much television as possible.
Anthony Bennett's name was called. Then he was ushered to his on-air interview with Dennis Scott of NBA TV. Then onto his press conference, which ran a scant five minutes, before he was ushered to the "Live Shot" area (the Nets' practice court converted into about a dozen booths, a veritable gamut of TV interviews) where we were told he would be for over an hour. Not only was other press not allowed to hear the "Live Shot" interviews, but we weren't allowed to wait (okay, fine, creepily linger) outside the area.