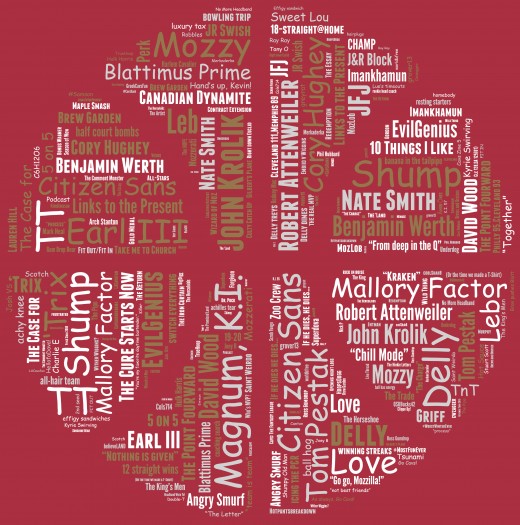 This is a really exciting weekend for us here at Cavs the Blog. Not only are the Cavs in the playoffs for the first time in four years, but guess what? After lots of requests, and lots of hard work by our staff and selected consultants we're proud to release your official 2015 Cavs: the blog t-shirts! Now if you've read this blog for any length of time, you'll note that we've only ever had two ads. A StubHub ad and a video scroll bar for ESPN (both are mandated by the ESPN TrueHoop network). That's right. We work for free and have never asked you for a thing. But we're asking you to buy a T-Shirt. Why? Well, a few reasons.
THEY'RE AWESOME! Seriously, this shirt design is tight. It features our logo, the year, and a basketball word cloud of all our writers, many of our frequent commenters, our favorite Cavs nicknames, things you've come to love about CtB, and all of our favorite storylines from the 2014-2015 season, "The Season of Wow." (Click the title pic for a closeup view of the wordcloud).
It comes in three different colors. If you want another color, ask. I might design one.
You're going to want to commemorate the 2015 Cavs season. Just trust me.
I want to see CtB 2015 shirts in the wild. I know you do too. It will make us all smile.
And this is the most important part. We're not making a dime on these. All proceeds will go to"The Cure Starts Now" Lauren Hill tribute fund. Great swag and a great cause?! What's not to love?
Here's how it works. The awesome folks over at Booster.com handle all the details. We just put up the design, and aggregate our orders for two weeks, so that they can print all the shirts at once. In honor of Lauren Hill's jersey, No. 22, Shirts are priced at a reasonable $22 ($5 shipping). You just give them your size and where you want it shipped! (Don't worry. I'm working on international shipping. I'll have it working by the beginning of next week, but it might cost a little more). Also, special thanks to the folks at Tagxedo.com for the wordcloud ap.
Here are your designs. Please note that these are mockups, not actual pictures of t shirts, the logo, especially should "pop" more on the actual shirt.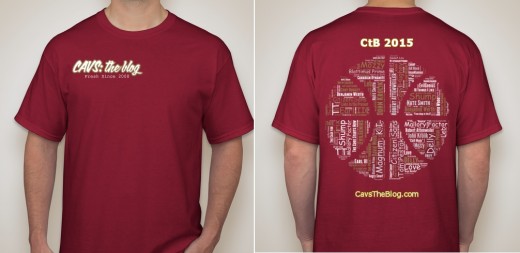 Cardinal, Antique Gold, Grey, and White (The CtB color scheme). Click here to buy.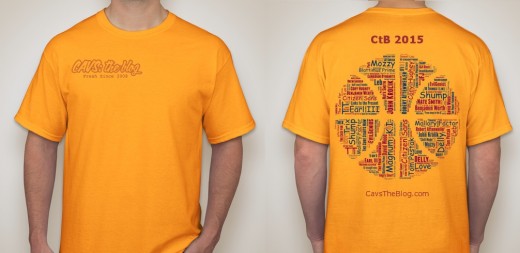 Gold, Wine, and Navy. Click here to buy.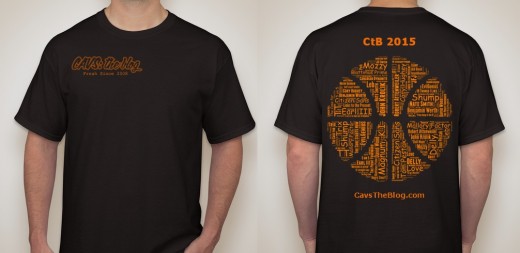 Black and Orange. Click here to buy.
If you don't know who Lauren Hill is, Lauren was a teenager and basketball player from the Cincinnati area who passed away from a terminal brain tumor earlier this month. Only 19, she was able to live out her dream of being a college basketball player for Mount St. Joseph university. Her courage has inspired people around the world, including many around the NBA, and in the Cavs organization. LeBron James penned a moving tribute to her on Twitter, earlier this week.
Lauren co-founded the charity, "The Cure Starts Now" which seeks to find a cure for pediatric brain cancer, and supports its victims and their families. You can read more about Lauren, here. Please know that we didn't decide to give to this cause out of a desire to attach ourselves out of any desire to increase our own exposure. Rather, we wanted to make t-shirts, and this was the absolute best thing we thought we could do with the money.
So buy a few! You can also increase individual donations to the fund at Booster.com. Tweet it, FaceBook it, spread the word! In the past year you all have followed this blog and made it such a fun community of writers, readers, and fans.  So buy a t-shirt! Wear it with pride.